Starbucks' hot coffee is iconic. Slow-roasted from the world's finest, ethically sourced beans, it kick-starts more mornings than sunshine.
But for those sultry summer days when a hot brew won't do, Starbucks offers an extensive menu of iced coffee creations from shaken espressos to their famous Frappuccinos.
Infinitely customizable, start with one of our ten top picks and make it your own. Just bring your inspiration and let their skilled baristas do the rest!
Facts About Starbucks Iced Coffee Drinks
Starbucks' iced coffees are built on one of four bases — regular brewed coffee, cold brew, espresso, or Frappuccino roast.
Iced coffees are made the old-fashioned way with your choice of double-strength hot brews over ice.
Cold brew is made differently. Premium grounds are steeped for 20 hours in cool water to extract their subtle flavors. Less acidic than iced coffee, cold brew is ultra-smooth and naturally sweet because time, not heat, optimizes the brewing process.
Iced Espressos are made with a full-bodied espresso and topped with milk or cream instead of the usual steamy froth. Expertly roasted beans are freshly ground for each energizing cup.
Frappuccinos are deliciously unique. Part frappe, part cappuccino, they're a blend of instant coffee powder designed specifically for cold water. Blended with ice, milk, and sweet syrup, there are 36,000 potential combinations! Starbucks sells $2 billion worth of Frappuccinos annually.
Iced coffee recipes are thoughtfully developed but adaptable from start to finish to meet your flavor preferences and nutritional needs.
Adjust the base with a shot of espresso — yes, it also comes in decaf — and add or drop ingredients at will. The baristas are at your service.
10 Best Starbucks Iced Coffee Drinks – Here Are My Favorites!
Here are my picks for the top 10 best iced coffee drinks at Starbucks. I will also share some tips on how you can customize them.
1. Iced Chocolate Almond Milk Shaken Espresso
Chocolate and almonds collide in this whimsical shaken espresso.
One of Starbucks' newest creations, Iced Chocolate Almondmilk Shaken Espresso is a combination of Blonde espresso, almond milk, and chocolate malt powder that is shaken, not stirred, to velvety perfection.
It's a delectable, dairy-free, sweet something for 110 tiny calories.
Try adding some vanilla or toffee nut syrup for extra sweetness and flavor.
2. Salted Caramel Cream Cold Brew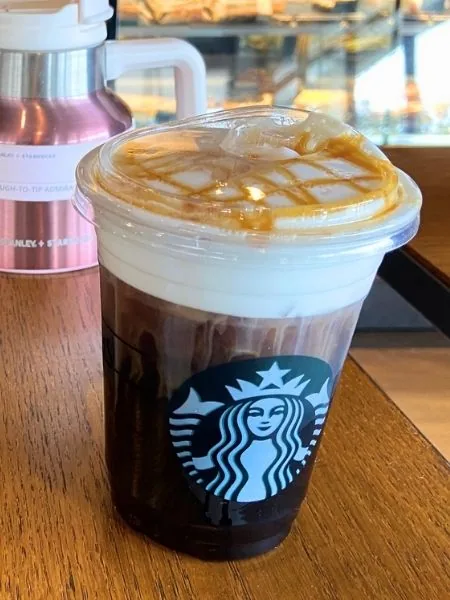 Just got to try this drink for the first time today and it instantly became one of my absolute favorites at Starbucks!
Salt and caramel really bring out the best in Starbucks' legendary cold brew. The grande-sized drink has a hefty 185 milligrams of caffeine to provide you with a nice energy boost.
Slightly sweetened and bathed in a mountain of salted caramel foam, the Salted Caramel Cream Cold Brew is the fusion of dessert and coffee. For my taste, the caramel brings enough sweetness, so I recommend that you go light on the added sweetener the first time you try it.
3. Iced Caramel Macchiato
A best-seller, the Iced Caramel Macchiato is a rich blend of bold espresso with vanilla syrup, milk, ice, and a luscious caramel drizzle.
This is definitely one of the best caramel drinks at Starbucks. Cold and sweet, it beats the heat!
You can also add the Spiced Apple Drizzle for a taste of fall. If you like macaroons, try having the Caramel Macchiato with coconut milk. You won't be sorry.
Also, if you love macchiatos and want to try a great Starbucks apple drink, check out the Apple Crisp Oatmilk Macchiato.
4. Iced White Chocolate Mocha
If you like Starbucks' hot White Chocolate Mocha, you'll love its cooler cousin.
Equally indulgent but refreshingly simple, the Iced White Chocolate Mocha includes a shot of signature espresso whirred to perfection with White Chocolate Sauce, milk, and ice. Topped with a dollop of sweetened whipped cream, it's comfort food in a cup.
5. Starbucks Cold Brew Coffee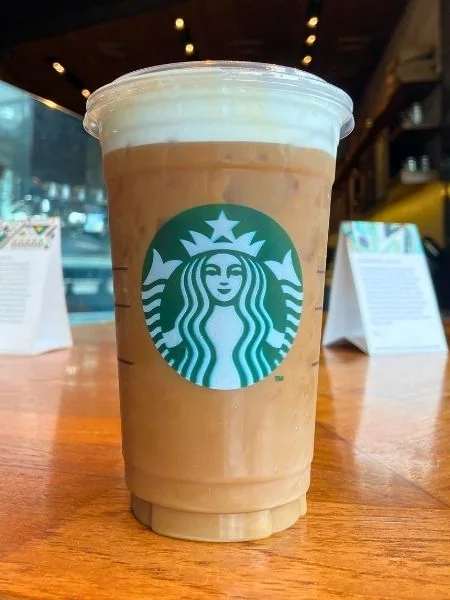 Custom-crafted from the finest beans, Starbucks' Cold Brew Coffee is slow-steeped for maximum flavor. A hearty but nuanced brew with hints of cocoa, it's the daring flavor you crave without the acid and heartburn.
I especially like it with whole milk and Vanilla Sweet Cream Cold Foam or a pump of Toasted Vanilla Syrup.
6. Iced Starbucks Blonde Caffè Americano
Buckle up for the Iced Blonde Caffè Americano — there's nothing timid about this brew. Shots of Starbucks' Blonde espresso are topped with water to create a wispy crema.
So how about calories?
Excuse me, what calories? This drink barely has any (15 calories for Grande) — unless you add loads of cream and sugar.
Served over ice, this Starbucks Americano drink is a silky but spirited blend. A dusting of cocoa powder gives it a sophisticated edge without adding much sugar.
7. Caffè Vanilla Frappuccino
Starbucks' Caffè Vanilla Frappuccino is the drink that started it all.
A global favorite since 1995, the combination of Frappuccino roast and vanilla bean powder with milk and ice put Starbucks' iced coffees on the map. Topped with a mound of whipped cream, it's shamelessly decadent.
8. Iced Dirty Chai Latte (Secret Menu)
For the fearless, I recommend the Iced Dirty Chai Latte.
You can't find it on the official menu, so you need to order an Iced Chai Latte with a shot of espresso
I really like this drink because the aromatic notes of cinnamon and cardamom complement the coffee perfectly and it has plenty of caffeine for a nice energy boost. Have it hot or iced with a double helping of Cinnamon powder.
Tea fans can actually add a shot of chai tea concentrate to almost any drink. It's pleasantly surprising in the Salted Caramel Cream Cold Brew.
9. Iced Pumpkin Spice Latte
What's fall without an Iced Pumpkin Spice Latte?
A blend of Starbucks' signature espresso with ice, milk, and four pumps of hearty Pumpkin Sauce, it has a holiday meal feel. Enjoy it topped with whipped cream and a dusting of pumpkin pie spices — it does not disappoint.
If you are looking for the best iced latte at Starbucks, this might just be it!
10. Cinnamon Roll Cold Brew (Secret Menu)
Need breakfast on the go? Try Starbucks' Cinnamon Roll Cold Brew.
It's only on the secret menu, so you'll need the recipe. Ask for a Venti cold brew with four pumps of White Mocha Sauce, sweet cream with two pumps of Cinnamon Dolce Syrup in the foam topped with Cinnamon Dolce Topping.
As satisfying as a gooey cinnamon roll, all that's missing is your sticky fingers.
If you are in the northwest and want to try something a bit different, I recommend that you also check out my guide with the best Dutch Bros iced coffee options.
How to Customize Your Starbucks Iced Coffee Drink
There is a dazzling amount of customization options when ordering iced coffee drinks at Starbucks.
So let's take a quick look at them.
Milk Options
When ordering an iced coffee drink, one of the first things is to choose a milk that best suits your preference. You can pick from various dairy options with different amounts of fat and then there are four plant-based choices as well.
My favorite options include whole milk, almond milk, soy milk and coconut milk.
Here is a list of all Starbucks milk options:
Whole milk
Nonfat milk
2% milk
Half-and-half
Oat milk
Soy milk
Almond milk
Coconut milk
Syrups
Starbucks syrups are perfect for adding sweetness and flavor to cold drinks as they are fluid liquids that dissolve easily. Another great thing is that most of the syrups are dairy-free.
Some of the popular syrup flavors are:
Apple Brown Sugar (seasonal)
Caramel
Hazelnut
Raspberry
Toffee Nut
Peppermint
Vanilla (normal & sugar-free)
Sauces
Sauces are thicker and creamier than syrups and are most often used in hot drinks. However, they don't mix very well into cold drinks but can be added on top of the drink with some whipped cream.
Popular Starbucks sauce options include:
Mocha
Dark Caramel
Pumpkin Spice
White Chocolate Mocha
Sweeteners
You can customize the sweetness and calories of your drink by choosing from different sugar products, honey, and various sugar-free sweeteners.
Starbucks sweeteners include:
Sugar
Raw sugar
Liquid cane sugar
Honey
Splenda
Stevia
Sweet'N Low
Toppings
Finally, you can add toppings to your drink. Drizzles, sprinkles, powders, and foams — there are plenty to choose from.
Popular Starbucks toppings include:
Caramel Drizzle
Mocha Drizzle
Vanilla Sweet Cream Cold Foam
Cinnamon Dolce Sprinkles
Cookie Crumbles
Cinnamon Powder
Whipped cream
Plain and flavored foams
Watch the seasonal menu for the latest additions — Starbucks always has something new and flavorful up its sleeve to keep things innovative.
And then there's the secret menu. Less confidential than imaginative, it's a compilation of old customer favorites and off-the-beaten-path recipes. Starbucks says yes to whatever inspires you.
Final Thoughts on Best Iced Coffee Drinks at Starbucks
Starbucks doesn't follow trends — it sets them. Almost single-handedly responsible for the growth of the iced coffee industry, their menu is a tribute to the diversity of its customers.
In a cookie-cutter world, it's coffee without limits!
And the great thing is that there are so many delicious and refreshing options to choose from. Try the ones introduced in this guide and customize them to suit your taste.
If you want to check out another selection of iced goodness, take a look at my recommendations for the best iced coffees from Dunkin' Donuts.