Starbucks knows how to make a downright delicious iced latte!
However, you don't always have to go with the basic version — there are so many great options to choose from, and it's easy to get lost browsing the menu.
To make things simpler for you in the Drive-Thru lane, I've created this list of the absolute tastiest iced latte drinks from Starbucks.
So check out these prospects to be ready for the next time you are craving an iced coffee fix!
The Top 10 Best Starbucks Iced Lattes You Should Try
Without further ado, here are my top 10 tastiest iced latte drinks to order at Starbucks:
1. Iced Caffè Latte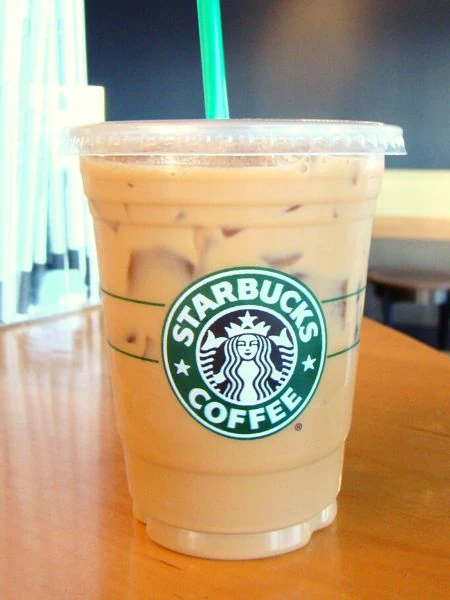 Timeless, tasty, and loaded with pure coffee flavor, this classic latte is a tried and true fan favorite.
As an espresso beverage, it gives you a reasonably bold hit of fresh coffee. That's good news if you need an energy boost!
The milk in this drink makes its texture smooth and enjoyable. Altogether, the Starbucks Iced Caffè Latte is creamy, bright, and perfect for people who want unadulterated coffee notes.
You can also substitute dairy milk for non-dairy alternatives like almond milk, oat milk, or even coconut milk.
No matter how you customize your classic iced latte, this drink is a signature delight.
2. Iced Cinnamon Dolce Latte
Do you love the taste of spiced, sweet cinnamon?
If so, the Iced Cinnamon Dolce Latte is definitely worth trying out!
This is one of Starbucks's most complex coffee drinks, with sweetly spiced nuances and plenty of rich flavor for cinnamon lovers.
These flavors come from sweet cinnamon dolce syrup, shots of espresso, and creamy milk. Then, this drink is topped with whipped cream and cinnamon powder.
The Starbucks Iced Cinnamon Dolce Latte is ideal for people who want to mask the taste of coffee while still accessing plenty of caffeine. So, if you like the effects of coffee but don't necessarily want a drink loaded with strong coffee flavors, this is a great option.
3. Iced Starbucks Blonde Vanilla Latte
The Iced Starbucks Blonde Vanilla Latte is another classic fan favorite.
As a sweeter version of the traditional iced latte from Starbucks, this beverage is made with blonde espresso for smooth flavors and sweet nuances. It also includes vanilla syrup to add sweetness.
So, if you have been looking for a slightly sweet coffee drink that is velvety-smooth, this is a fantastic option to try.
Shaken over ice, you can choose to substitute the 2% milk for non-dairy alternatives as well.
4. Iced Pumpkin Spice Latte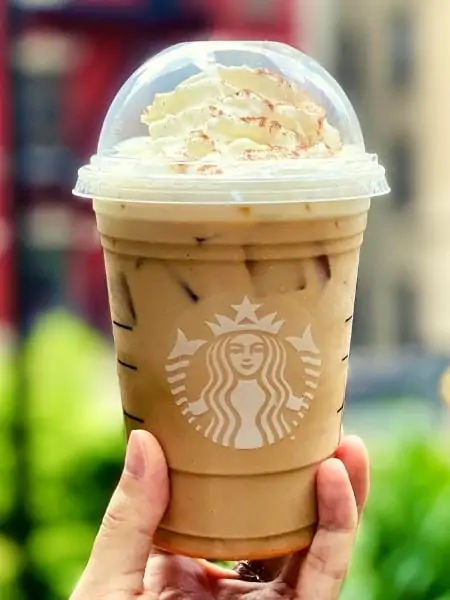 The Iced Pumpkin Spice Latte from Starbucks is one of the most popular drinks on the menu! And for a good reason.
Featuring a delicious combination of sugar and spices, many dedicated Starbucks fans eagerly wait for this drink to come back on the menu every autumn.
The iced pumpkin spice latte combines fresh espresso shots with milk and pumpkin spice flavoring syrup. Shaken with ice and topped with whipped cream, it's a deliciously bright and rich beverage!
Who doesn't love the delicious flavors of pumpkin spice on a crisp fall morning?
5. Starbucks Reserve® Iced Latte
True coffee connoisseurs will appreciate this small-lot iced Starbucks Reserve Espresso beverage.
Premium Starbucks Reserve shots of espresso are combined with ice and creamy milk in a delicately fresh libation. The resulting handcrafted beverage is perfectly smooth and delightfully cool.
The Starbucks Reserve® Iced Latte is a great option for those looking to avoid excess sugar!
However, you can also add flavoring syrups or whipped cream to this drink for an additional touch of sweetness.
6. Iced Honey Oatmilk Latte
What goes together better than oats and honey?
Made with Starbucks oat milk and signature shots of freshly brewed espresso, the Iced Honey Oatmilk Latte delicious has hints of honey and is finished off with toasted honey crumble topping.
All of these ingredients combine to create a savory and slightly sweet tribute to wholesome indulgence.
Coffee fans love how the nuanced sweetness of the honey blends beautifully with the oat milk. Overall, this creates a drink that is never overpowering and always refreshing!
7. Iced Sugar Cookie Almondmilk Latte
One of the latest and greatest new holiday drinks available at Starbucks, the Iced Sugar Cookie Almond Milk Latte became available at Starbucks stores in the United States on November 4th 2021.
This non-dairy iced latte is made using an incredibly sweet and savory combination of Starbucks Blonde Roast Espresso, sugar cookie flavored syrup, almond milk, and red and green cookie sprinkles.
It's a drink that is just as delicious as it looks!
Be sure to get yours while it's still available — this Starbucks iced latte is a limited-time-only seasonal treat.
8. Starbucks Reserve® Iced Hazelnut Bianco Latte
If you love the delicately nutty flavors of hazelnut, this is a delicious iced latte to check out.
Made with hazelnut praline-infused milk and Small-Lot Starbucks Reserve Espresso, the Starbucks Reserve Iced Hazelnut Bianco Latte a great option for coffee aficionados looking for a drink with a little bit of character and a touch of sweetness.
Chilled and served over ice, this is an incredibly smooth and refreshing choice.
9. Iced Chestnut Praline Latte
If you have been looking for a delectable drink with the flavor of caramelized chestnuts, look no further than the Iced Chestnut Praline Latte.
This incredible latte is refreshing and smooth with a sweet nutty flavor. Slight hints of holiday spice give you a deliciously light and refreshing drink that is perfect for Autumn or the holiday season.
This beverage combines chestnut praline syrup, espresso, milk, and ice. It is then topped with whipped cream and praline pieces to give you an extra touch of decadent savoriness!
10. Iced Matcha Tea Latte
Looking for a smooth and creamy iced latte without the coffee?
This delicious matcha drink is sweetened perfectly and served with milk!
Shaken to perfection and poured over ice, green goodness has never been so tasty. The Iced Matcha Tea Latte is a delicious and nutritious beverage!
With a striking look, the combination of caffeine and smooth flavors is perfect for anyone seeking an alternative to coffee.
How to Order and Customize Iced Lattes at Starbucks
Ordering a regular iced latte at Starbucks is very simple and straightforward — just ask for an Iced Caffè Latte and choose the size from Tall (12 oz), Grande (16 oz), Venti (24 oz), and Trenta (31 oz).
It's a great starting point but there are also many interesting variations that you can try. I have already introduced my favorites in this guide.
In addition there are many ways to customize the latte to suit your personal preference:
Milk Options – There Are Many!
In addition to the espresso coffee shots, milk is the other important component in all lattes.
While the default option for a Starbucks latte is the 2% cow's milk, there are also many other options to choose from. Your choice of milk affects both the taste and calories of your beverage and allows you to have a dairy-free Starbucks drink.
I usually order my latte with whole milk, but I also love it with almond milk, or sometime even with coconut milk.
Below is a list of all milk options available at Starbucks:
Whole milk
Nonfat milk
2% milk
Half-and-half
Oat milk
Soy milk
Almond milk
Coconut milk
Syrups – More Flavor!
Syrups are a great way to add some flavor and sweetness to your iced latte drink. Luckily, most of them are vegan friendly and dairy-free.
Popular Starbucks syrup flavors include:
Apple Brown Sugar (seasonal)
Caramel
Hazelnut
Raspberry
Toffee Nut
Peppermint
Vanilla (normal & sugar-free)
Sauces – So Yummy!
Sauces are thicker than syrups and can be added on top of your iced drink with some whipped cream.
Here are some Starbucks sauces that you should try:
Mocha
Dark Caramel
Pumpkin Spice
White Chocolate Mocha
Sweeteners – Natural or Calorie-Free?
Go for a naturally sweet option like raw sugar or honey or choose a calorie-free sweetener — the choice is yours!
And remember, you don't have to have any additional sweetener. I actually like my iced latte without any.
Starbucks has the following sweeteners available:
Sugar
Raw sugar
Liquid cane sugar
Honey
Splenda
Stevia
Sweet'N Low
Toppings – Let's Drizzle!
Finally, you can top off your latte with drizzles, sprinkles, powders, or foams — the options are plentiful.
Popular Starbucks toppings include:
Caramel Drizzle
Mocha Drizzle
Cinnamon Dolce Sprinkles
Cookie Crumbles
Cinnamon Powder
Whipped cream
Plain and flavored foams
Use the Starbucks App
If you are in a hurry, I recommend that you use the Starbucks App to pre-order your latte.
This way the drink will be ready when you arrive and you can skip the line!
Final Thoughts on Iced Latte Drinks at Starbucks
With so many delicious ice-cold coffee options from Starbucks, it's easy to find a latte for anyone to drink with bliss!
Whether you like spiced flavors, sweet vanilla nuances, or pure espresso goodness, Starbucks really does have something for every coffee drinker to fall in love with.
We hope this guide has been helpful and shown you some great new options to consider. That way, the next time you visit your nearest Starbucks, you will have something great to try.