Have you been wondering if there are any healthy drinks at Dunkin' Donuts?
Dunkin' is famous for offering some of the most deliciously sweet and creamy coffee beverages around. Many people associate them with hot chocolate, creamy cafe latte, and as the name suggests, doughnuts.
Although these kinds of things are absolutely delicious, they aren't necessarily the healthiest options.
In addition to these sweet drinks loaded with calories, Dunkin' Donuts also has some amazingly tasty and healthy beverages.
In fact, they have just as many healthy drinks on their menu as many of their top coffee shop competitors. You just have to know what to order!
Below, we will talk about the healthiest drinks available at Dunkin' Donuts so that you can enjoy delicious swirls of flavor without all of those extra carbs and calories.
What Makes a Dunkin' Drink Healthy?
Just like with anything you decide to order from a drive-through cafe, how healthy something is will depend on its ingredients. For example, you can order a black coffee at Dunkin' Donuts, and it will be just as healthy as a black coffee from another establishment.
However, when you add syrup flavors, cream, sugar, and other ingredients, things can head in a high-calorie trajectory.
So what exactly makes a drink from Dunkin' Donuts healthy?
Well, it mostly comes down to choosing options that are nourishing and low in unnecessary sugars, calories, and fats.
Any toppings or flavors you add should also be good for your body. The less sugar, more vitamins, and more fiber your drink contains, the healthier it is.
Also, depending on your unique needs, avoiding certain allergens can help make a drink healthier.
Here are the 3 main factors that can make your drink either healthy or unhealthy:
1. Calories and Sugar
In the United States, people often consume excessive calories from beverages. An excessive caloric intake can lead to all kinds of health issues. So, keeping an eye on how many calories a drink contains is wise.
According to leading dieticians and trainers, choosing healthier beverage options usually involves looking for something with no added sugar.
Added sugar is not only rich in calories which encourages weight gain, but it can also cause other health problems such as:
Increased risk of heart disease
Increased risk of type 2 diabetes
Higher risk of cancer
So if you are trying to be healthy, stay away from sugar-packed options like Dunkin' Donuts caramel drinks!
Another common source of calories in Dunkin' drinks is fat — especially if you choose a drink with plenty of cream or full-fat milk.
However, the good thing about fat is that it will actually keep your hunger away and blood sugar levels more stable compared to calories coming from sugar.
2. Nutrition
You should also consider how nutritious the drink you order will be. Some ingredients contain more vitamins, minerals, and protein, than others.
For example, drinks with low-fat milk, skim milk, oat milk, and other milk alternatives can be incredibly nutritious options that are lower in calories. Or, if you are trying to consume lots of protein, choose the lowest-calorie beverage with the most protein possible.
Drinks that are under 200 calories with at least 5 grams of protein are the smart choice.
Read also: What Oat Milk Does Dunkin' Use?
3. Antioxidants
Antioxidants can be very good for your health — they can protect your cells, slow down aging, and reduce the risk of many diseases from type 2 diabetes and cancer to Alzheimer's and Parkinson's disease
According to research, coffee offers many antioxidant and antiviral benefits. As it happens, there are plenty of coffee drinks available from Dunkin' Donuts that are loaded with antioxidants.
You may also want to consider ordering antioxidant-rich teas or juices.
5 Healthy Dunkin' Donuts Coffee Drinks
Now that you have a better idea of what to look for in your beverages, here are five healthy Dunkin' Donuts coffee drinks to consider trying!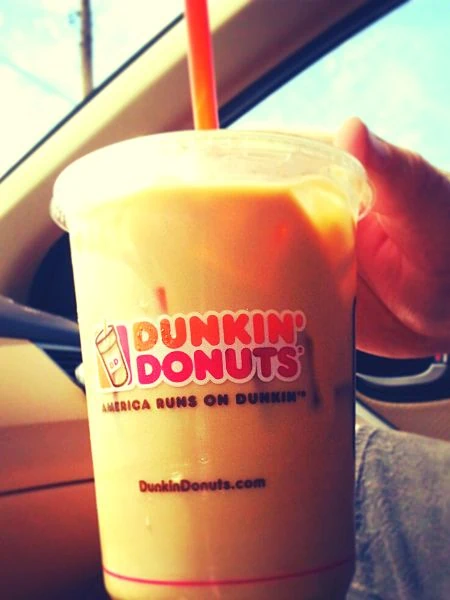 1. Iced Coffee with Oat Milk
Medium Size (24 oz):
Calories: 30
Sugar: 1 g
Caffeine: 267 mg
This delicious iced coffee is made with freshly brewed premium coffee and oat milk for a refreshing and cool way to energize your day without going overboard on the calories. You can also ask for a Dunkin' Sunrise Batch iced coffee if you like a complex flavor with some citrusy notes.
Oat milk is a fantastic alternative when you are trying to avoid dairy and it's also rich in beneficial nutrients like calcium, potassium, and vitamin D.
All in all, this is definitely one of the best iced coffee drinks at Dunkin' Donuts!
2. Cappuccino With Skim Milk
Medium Size (14 oz):
Calories: 70
Sugar: 9 g
Caffeine: 166 mg
Dunkin' Donuts cappuccinos are hot, creamy, and perfectly frothy. When you order your Dunkin' cappuccino with skim milk, you can avoid excessive fats without losing out on that coveted caffeine boost.
Plus, ordering your cappuccino with skim milk gives you a high-protein low-fat way to wake up or warm up. And you'll also be getting plenty of calcium, potassium, and vitamin D!
3. Almond Milk Vanilla Cold Brew
Medium Size (24 oz):
Calories: 20 (approximately)
Sugar: 2 g
Caffeine: 260 mg
Did you know that you can custom order an almond milk vanilla cold brew at Dunkin' Donuts?
While I also like the Dunkin' cold brew plain, having it with a splash of almond milk and some vanilla flavor really takes this drink to the next level!
All you have to do is order your cold brew coffee with almond milk and a shot of vanilla flavor. The great thing about all Dunkin' flavor shots is that they are dairy-free and contain no sugar.
This is a delicious and healthy beverage alternative that many calorie-conscious consumers love!
4. Coconut Milk Latte
Medium Size (14 oz):
Calories: 50
Sugar: 1 g
Caffeine: 166 mg
Coconut milk offers many benefits and is incredibly hydrating, which helps to balance the diuretic effects of coffee.
A delicious coconut milk latte from Dunkin' Donuts has fewer calories than a regular latte. Plus, coconut milk is full of nutrients like calcium and vitamins E and D.
5. Espresso Shot
One Shot:
Calories: 5
Sugar: 0 g
Caffeine: 118 mg
If you need a quick energy boost, why not just order a simple shot of espresso?
There are only five calories in a 2 oz Dunkin' Donuts espresso shot!
And best of all, the influx of energy you'll get from ordering an espresso shot will probably help you burn those negligible calories off quickly.
More Healthy Dunkin' Drinks
Even if you aren't a fan of coffee, Dunkin' Donuts still offers some healthy beverage alternatives.
Here are a couple of excellent non-coffee drinks to order at the drive-through!
6. Unsweetened Iced Green or Black Tea
Medium Size (14 oz):
Calories: 5
Sugar: 0 g
Caffeine: 67 mg
Dunkin' iced teas are brewed perfectly to offer you delicious and revitalizing pick-me-ups. Made fresh daily at the store and served over ice, they're a nutritious and healthy way to stay in shape.
Just remember to order your iced tea unsweetened!
You can still add flavor shots if you want a little something extra without going overboard on calories.
7. Hot Premium and Herbal Teas
Dunkin' premium teas and herbal blends contain antioxidants and a myriad of mouth-watering flavors.
The pyramid-style tea sachets include high-quality tea blends and herbs for a delicious and warming cup of goodness every time. Choose an energizing green or black tea or a soothing herbal blend with chamomile, mint, or hibiscus.
Final Thoughts on Ordering the Healthiest Dunkin' Drinks
So there you have it!
Although Dunkin' Donuts is often associated with high-calorie fares, there are many ways to keep your beverage order health-conscious.
If you are wondering exactly how much calories, sugars, protein and fat your favorite Dunkin' drink contains, click here to check out their menu.
It all comes down to choosing nutritious low-calorie drinks in reasonable proportions.