Whether you are lactose intolerant or are just looking for a great plant-based alternative to cow's milk, soy milk is a great place to start.
If you are a fan of soy milk, you will be happy to hear that Starbucks offers a range of tasty soy milk coffee and tea beverages.
These delicious drinks don't compromise on flavor. They offer you a delicious soy milk alternative that can perk you up any day!
Below, we will discuss how soy milk tastes in coffee and tea. Then, we will walk you through the 10 best Starbucks soy milk drinks to try.
About Soy Milk and its Use in Coffee and Tea
Traditionally, soy milk is used to replace types of animal milk. It's made by soaking soybeans and grinding them to a very fine consistency before mixing them with water.
An alternative method of making soy milk involves using soy flour to create a soy paste slurry. This slurry is then boiled and refined to a milk-like consistency.
Soy milk is free of lactose and contains no animal by-products. It's a great choice for those living a vegan lifestyle!
It's also a wonderful protein-packed plant-based milk option for anyone who wants to avoid lactose.
Soy Milk in Coffee and Tea
Soy milk can be used in both coffee and tea. The consistency and flavor of soy milk complement the subtle flavor nuances of coffee wonderfully.
With tea, soy milk easily cuts through the astringency for a delicately sweet and flavorful beverage. With this in mind, using soy milk in hot beverages requires experience to get the flavor and consistency just right.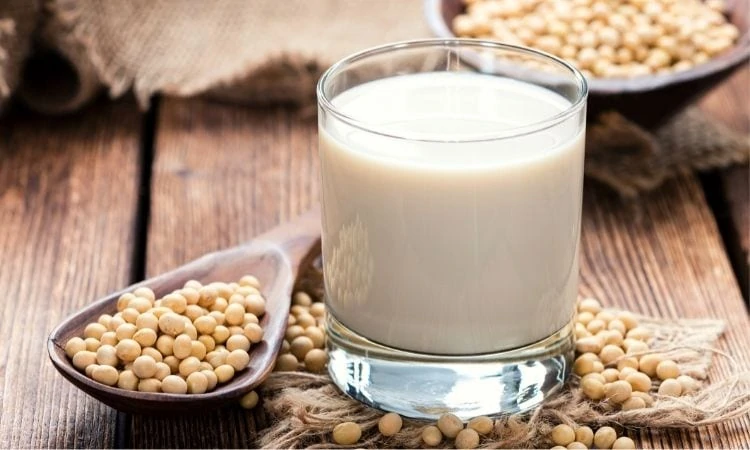 Why is soy milk is popular in coffee and tea?
Soy milk is easily accessible and tastes great in coffee and tea. It is a wonderful option for those who are lactose intolerant. Soy milk is also great for vegetarian and vegan diets. Best of all, one cup of soy milk contains seven grams of protein for health and energy.
What does soy milk taste in coffee and tea taste like compared to dairy milk and other plant-based kinds of milk?
If you are an avid coffee drinker who wants to try soy lattes, be prepared for a slight difference in flavor. Soy milk responds with acidity changes at high temperatures. This can impart a slightly tangy flavor to tea or coffee.
To balance this, choosing sweetened beverages is recommended. Many people are partial to this flavor change, sometimes preferring it.
If this does not sound like something that you are interested in trying, iced lattes or teas with soy milk have smooth flavor notes.
What else do you need to know?
If you want to try plant-based milk in your tea or coffee, Starbucks soy milk is a great option. Its protein and texture make it a popular choice. However, be prepared for subtle flavor changes. This is especially true for hot beverages.
Looking for more delicious plant-based options? Check out my article with Starbucks oat milk drinks.
10 Best Starbucks Soy Milk Drinks
Now, let's take a look at some of the most delicious Starbucks drinks available with soy milk.
1. Brown Sugar Oat Americano (made with soy milk instead)
Do you love espresso and want to try something sweet and savory with soy milk?
If so, the Brown Sugar Oat Americano is a perfect choice. Just ask for soy milk instead of oat milk.
With rich brown sugar syrup mixed with fresh Starbucks Blonde Espresso, this drink is a great way to start the day!
2. Caramel Macchiato with Soy Milk
Caramel has always been one of the most popular drink flavors at Starbucks. The Caramel Macchiato with Soy Milk features a mix of soy milk and espresso with a sweet caramel drizzle and vanilla notes.
The delicious blend of caramel and vanilla make this drink a very popular option that compliments the tangy taste of soy milk.
3. Starbucks Reserve Dark Chocolate Mocha
If you are a chocolate lover but need a caffeine boost, then the Starbucks Reserve Dark Chocolate Mocha is the way to go!
With this mocha, you get nuances of sweet and delicious dark chocolate along with Starbucks Reserve Espresso. It has the perfect balance of sweetness and bitterness. Plus, soy suits it well!
4. Cinnamon Dolce Latte
One delicious drink that will surely hit the spot is Cinnamon Dolce Latte. It's especially delightful with soy milk.
Adding cinnamon dolce syrup makes this latte pop with flavor. Also, don't forget that you can add spiced apple drizzle on top if you want a beautiful flavor experience like never before!
5. Soy Milk Chai Tea Latte
Let's talk about tea for a while.
The Soy Milk Chai Latte is an elegant blend of black tea mixed with flavors of warm spices like cloves, star anise, and cinnamon. This spiced delicacy provides energy without the caffeine jitters from coffee.
With soy, it is an instant hit for those skipping the lactose!
6. Apple Crisp Macchiato with Soy Milk
Caramel, vanilla, coffee, and warm spices make the Apple Crisp Macchiato a delicious way to make any morning or busy afternoon feel like a treat. It's perfectly sweet for crisp fall mornings or wintry work days!
What a wonderful way to get the energy you need without sacrificing the taste you desire. The apple flavors go perfectly with the tangy notes of soy milk.
7. London Fog Latte with Soy Milk
How about an escape to a misty morning with flavors from Europe?
The London Fog Latte will take your tastebuds to London with the sweet notes of bergamot from black tea. The fragrant flavors go very well with soy milk. Just be sure to ask your barista to use soy milk!
8. Honey Almond Milk Flat White
Starbucks actually has many tasty almond milk drinks in their selection. Some of them can be easily transformed into soy milk drinks.
The Starbucks Almond Milk Flat White is a wonderful option for coffee aficionados. If you love flat white coffee drinks but don't want to get an upset tummy from cow's milk, just ask for soy milk instead.
The creamy dreamy texture of this drink is sure to make your taste buds sing. If you're looking for a rich sultry way to brighten your day, this is the perfect drink for you!
9. Mocha Cookie Crumble Frappuccino with Soy Milk
Cookies and cream anyone?
This tasty icy Mocha Cookie Crumble Frappuccino is like dessert in a cup. Blended to creamy perfection, this is a great option for anyone just dipping their toes into the world of soy milk.
If you are lactose intolerant, be sure to ask for this drink with no whipped cream.
10. Matcha Crème Frappuccino with Soy Milk
With matcha powder and classic sweet syrup, the Matcha Crème Frappuccino with Soy Milk is a tasty choice for any health-conscious Starbucks fan. It can be made with soy milk for a tasty and healthy way to keep your energy up all day!
Once again, if you are skipping milk products, ask for this blended icy frappuccino with soy and without whipped cream.
Read also: Do Starbucks Frappuccinos Have Caffeine?
Starbucks Soy Milk Drinks – Final Thoughts
Now you know why soy milk is such a popular alternative for animal milk in tea or coffee. Plus, you now know what to look for when you pull up to a Starbucks craving something delicious minus the lactose.
Check out any of these delicious drinks and see why soy milk is such a hit with coffee, tea, and blended drinks at Starbucks!