Starbucks offers an array of delicious caramel beverages. These drinks have rich, sweet, toasted caramel flavors and are very popular at the coffee chain.
But what kind of caramel is used by Starbucks?
Starbucks uses its own brand of flavored caramel syrup to impart a rich, sweet taste to many tea and coffee beverages. The syrup comes in 1 L bottles and has a pump attached. However, some Starbucks drinks also contain a thicker, richer caramel sauce.
The kind of Starbucks caramel you will get depends on what you order. Here, we will go over everything you need to know about what type of caramel syrups and sauces Starbucks uses at its stores.
Armed with the facts, you can then order the perfect drink the next time you are at the drive-through!
What Caramel Sauce Does Starbucks Use?
The caramel sauce used at Starbucks is manufactured by Fontana and comes in Starbucks-branded bottles with the coffee chain's logo on the front. As a thick and sticky caramel sauce, it comes in a squeezable bottle and is very similar to the caramel that you would put on top of ice cream.
Starbucks caramel sauce is used to add flavor and texture to an array of beverages including lattes, macchiatos, cappuccinos, frappes, and more. This sauce became popular when Starbucks introduced its signature Caramel Macchiato, a hot latte drink.
Wondering what's the difference between Starbucks caramel sauce and caramel drizzle?
Well, in fact, the Starbucks caramel sauce and caramel drizzle are the same thing!
The caramel sauce can be used to line the inside of a cup (as with a macchiato or frappuccino), or, gently drizzled over the top of whipped cream or latte foam. It is sweet, rich, buttery, and thick. It is basically like melted caramel!
The primary ingredients of this thick caramel sauce are cream, butter, caramel flavoring, water, and sugar.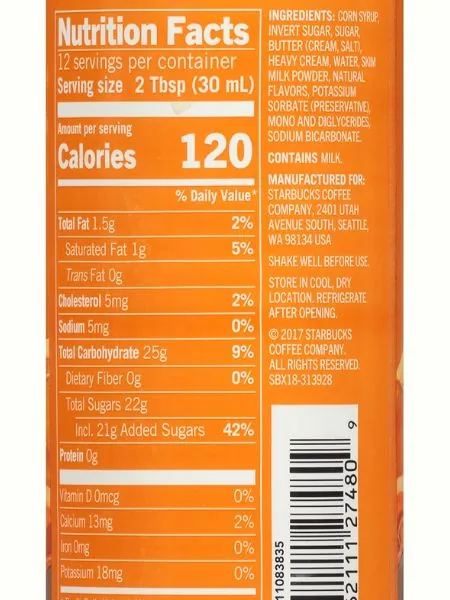 When you read the bottle label, the full ingredients listed on the back are corn syrup, invert sugar, sugar, butter, cream, salt, heavy cream, water, skim milk powder, natural flavors, potassium sorbate, sodium bicarbonate, and mono-diglycerides.
Two tablespoons (30ml) of the sauce has 120 calories and 22 grams of sugar. Just like the caramel drinks from Dunkin', Starbucks caramel drinks tend to be heavy on calories. So if you're trying to slim down they might not be the best option!
What Caramel Syrup Does Starbucks Use?
The caramel syrup used at Starbucks is also manufactured by Fontana and has the store's logo on branded bottles with a pump. Primarily, this liquid syrup is used to infuse drinks with a sweet caramel flavor.
A 12 oz Starbucks caramel beverage, otherwise known as a "Tall" drink, usually contains two pumps of syrup. A 16 oz drink will have three pumps, a 24 oz drink will have four pumps, and so on.
If you want your drink to have more caramel flavor, you can always ask for an extra pump or two of this syrup.
The ingredients of Starbucks caramel syrup are sugar, water, natural flavoring, citric acid, caramel color, and potassium sorbate.
Just like the sauce, Starbucks caramel syrup has 22 grams of sugar per two tablespoons. But there is no fat, so the calorie count is a bit lower at 90 calories.
Starbucks Caramel Syrup vs Sauce
Since Starbucks offers so many popular caramel drink options, it can be helpful to understand how they differ and whether they include caramel syrup, caramel sauce, or both.
There are some pretty big differences between Starbucks caramel syrup and Starbucks caramel sauce, after all:
Consistency: Starbucks caramel syrup is much thinner than Starbucks caramel sauce. While the syrup comes out of a pump bottle and is a viscous liquid, the sauce is thicker, like melted caramel.
How It's Used: Starbucks caramel syrup is pumped into liquid beverages to create a sweet, caramel flavor. Starbucks caramel sauce is drizzled inside cups or over whipped cream to add a textural component and additional caramel flavor nuances to beverages.
Calories: Starbucks caramel sauce has more calories than Starbucks caramel syrup. Two pumps of Starbucks caramel syrup will equate to around 100 calories. Alternatively, the sauce drizzled inside of a cup and on top of a Starbucks drink adds up to about 120 calories.
Flavor: Starbucks caramel sauce is sweeter, thicker, and creamier than Starbucks caramel syrup. In comparison, Starbucks caramel syrup has lots of sugary caramel flavor and toasted nuances.
Read my complete Starbucks sauce vs syrup comparison for more information about the differences of these two flavorings.
The sauce and syrup introduced in this guide are not the only ways to add caramel flavor to your Starbucks drink. There's also Dark Caramel Sauce, Caramel Crunch Topping, Salted Caramel Cream Cold Foam, and Caramel Brulée Sauce & Topping available.
Check out my guide with the best caramel drinks at Starbucks for some irresistible options that are sure to satisfy your sweet cravings!
Where Can You Buy Starbucks Caramel Syrup?
You can buy Starbucks caramel syrup in Starbucks stores as long as they have stock. You can also order it online from Amazon.
Or why not try and make your own caramel syrup at home?
It's actually quite easy!
Check out the video below for instructions:
Final Thoughts on Starbucks Caramel Sauce and Syrup
All in all, Starbucks caramel comes in two primary formats — a sauce, and a syrup.
Starbucks caramel syrup is thick and creamy and can be drizzled on top of drinks or inside of your cup. Starbucks caramel sauce can be mixed in with frappes, teas, blended drinks, and liquid coffee beverages.
Both the sauce and the syrup are tasty and sweet, for a big kick of delicious caramel flavor!