I often stop by at Starbucks to order some refreshing cold brew or iced coffee. And I also love making my own cold brew at home.
But sometimes the most convenient option is to just grab a can of Kirkland Cold Brew Coffee from the ref.
While I was sipping on some of this jitter juice this morning, it occurred that I should write a review about it. So here we go!
Read on and find out how this canned cold brew tastes, if it has enough caffeine to kick start your day, and why I keep on buying it.
Kirkland Signature Colombian Cold Brew Coffee Review
How Does it Taste?
When it comes to taste, Kirkland really nailed it with this cold brew!
It tastes strong and smooth, and you can very well drink it straight from the can without any creamer or sweetener. This isn't the best cold brew I have tasted, but it's pretty awesome for a canned product.
When I'm at home, I usually add some ice and a splash of full cream milk to my cold brew. But when I'm on the go, I gulp it from the can as it is. Tastes damn good both ways!
Kirkland Cold Brew Coffee Caffeine Content
One very important thing is the caffeine content of this drink.
We all know that coffee has caffeine, but how much exactly depends on many things. Like the coffee-to-water ratio of the cold brew, brewing time, the type of coffee beans used, and so on.
A can of Kirkland cold brew packs 225 mg of caffeine — and that's a lot!
It says in the can that this is equivalent to 2.3 cups of coffee, which is true. So if you drink a whole can at once, it might be even too much and make you jittery.
I only had half a can this morning before writing this review and that's enough for me. I'll drink the rest in the afternoon.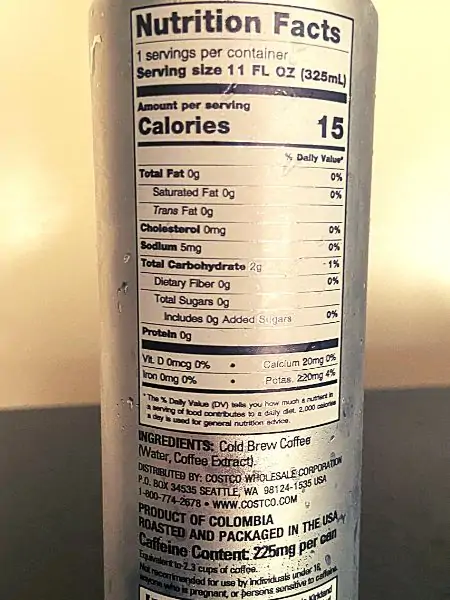 Nutrition Facts
What I really like about this product is that there is nothing added, it's just coffee. This means there are only 15 calories in one 11 oz can of Kirkland cold brew.
So unless you add loads of sugar and cream to it, you don't have to worry about gaining weight even if you drink a few cans every day.
Is Costco Kirkland Cold Brew Discontinued?
This cold brew coffee is made by Kirkland, which is a brand owned by Costco.
At one point it seemed like it was out of stock everywhere. In the internet forums (mainly Reddit) people were wondering if Costco has discontinued the Kirkland Cold Brew Coffee entirely.
The reason it was out of stock was apparently that in 2020 there was a shortage of aluminum cans because of COVID. Thus, Kirkland Cold Brew was out of stock simply because they couldn't source the cans needed for it.
So no, Kirkland Cold Brew is not discontinued.
Where to Buy It?
You can order Kirkland Cold Brew from Amazon or buy it from your local grocery (if you're lucky).
Ordering from Amazon is convenient but the price is also high — over 2 dollars per can!
You can find it in some stores at almost half the price compared to Amazon.
Final Thoughts on Costco Kirkland Cold Brew Coffee
The best thing about this cold brew is its convenience. Just zip the can open and enjoy it!
While I like to make my own cold brew in a French press, it takes a bit of effort and about 12 hours to brew it. So it makes sense to have a few cans of Kirkland Cold Brew in the ref just in case I suddenly need a quick fix.
And in addition to being convenient, this coffee also tastes good and packs plenty of caffeine. So what's not to love?