I love every Nespresso coffee pod I'm trying out on my new Nespresso Vertuo machine.
I mean the whole process of brewing and tasting the different flavor nuances and aromatic notes just creates happy markers for me. Every sweet caramelly note or cocoa undertone or the hint of jungles of the South Americas transports me to different places.
My Nespresso coffee pods are literally a doorway to a different world.
Today's review is going to be all about Nespresso Bianco Doppio coffee. Check out why this coffee capsule is a must-try for those who like milky coffee!
What is Nespresso Bianco Doppio?
Bianco Doppio is a smooth and light-roasted coffee blend for the Nespresso Vertuo coffee machines. This limited-edition coffee variant was released in 2020 and has a rich, creamy flavor with notes of caramel and biscuit.
The coffee is designed to be brewed as a double espresso, hence the name "Bianco Doppio," which translates to "white double" in Italian. The coffee is also designed to be enjoyed with milk, making it a great option for cappuccinos and lattes.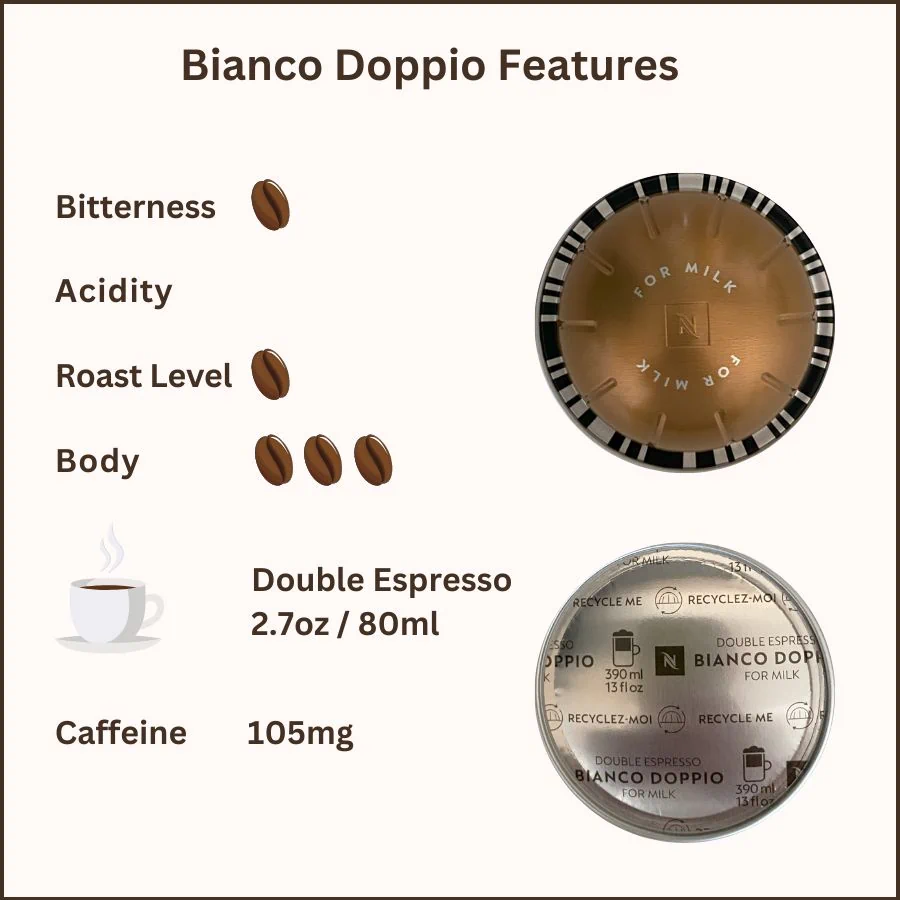 You can best use a single coffee pod for brewing a 2.70 oz or 80 ml double espresso on your Nespresso Vertuo coffee machine.
These coffee pods are available in a pack of 10 capsules. Each Nespresso Bianco Doppio capsule contains 10.2 grams of roast and ground coffee, which is just the right amount for making a double espresso.
Nespresso Bianco Doppio Flavor Profile
The flavor profile of Nespresso Bianco Doppio is truly a treat for those who enjoy a hint of sweetness in their coffee. The unique flavor profile comes to life when combined with milk, creating a harmonious balance of biscuity, fruity, cereal, and caramel notes. The layers of these sweet notes give a distinct flavor profile to Nespresso Bianco Doppio.
With each sip, your taste buds will be treated to a delectable combination of flavors that is both indulgent and satisfying. Whether enjoyed as a morning pick-me-up or a decadent treat in the afternoon, Nespresso Bianco Doppio is sure to please any coffee lover craving a sweet and creamy beverage.
Nespresso Bianco Doppio Caffeine Content
One double espresso made with a Nespresso Bianco Doppio capsule contains about 105 milligrams of caffeine. This is about the same amount that you would have in a regular 8-ounce cup of coffee.
I had my first Bianco Doppio coffee with some steamed milk on a nice and sunny morning. I felt like the coffee had just the right amount of caffeine to give me a nice energy boost and get my day started.
Nespresso Bianco Doppio Features
Each Nespresso Vertuo coffee capsule has several features from bitterness and acidity to roast level. Each type of coffee is a blend of different coffee beans that are roasted in various ways to create a unique coffee experience.
This makes trying out different Nespresso coffees such an interesting journey!
Wondering what the main features of Nespresso Bianco Doppio are?
Here I will explain all about the most important features of Nespresso Bianco Doppio coffee so that you can understand what this coffee is all about.
Origin
Light-roasted Arabica beans sourced from Nicaragua, Colombia, and Kenya are carefully curated to bring you the best cup of coffee that creates a divine cup when milk is combined with it.
Bitterness
To keep things on the sweeter side, the bitterness rating of Nespresso Bianco Doppio is 1 out of 5 on the bitterness scale. What this means is that it will hardly taste bitter.
Acidity
There is no acidity as such present in Nespresso Bianco Doppio. Therefore, you won't get any sour taste or bright notes in the milky coffees made with this blend.
Roast Level
Lightly roasted, the roast level of Nespresso Bianco Doppio is 1 on a scale of 1-5. The split roasting process allows the central aromatic notes of the individual Arabica beans to be highlighted.
The roasting process stops precisely at the point when it's sure that the beans would impart the warm caramel and sweet cereal notes when in contact with milk.
Body
The body of Nespresso Bianco Doppio gets a 3 out of 5. That means it falls in the middle ground and won't be too light or too heavy. It's a perfect balance of creamy and smooth textures that won't leave you feeling heavy.
Intensity
There is no intensity value assigned to Nespresso Bianco Doppio on their website.
The intensity is the measure of how strong coffee is in terms of its blend, flavor, roasting time and degree, body, and bitterness. Nespresso Bianco Doppio is not at all bitter or intense.
Finish
The finish of Nespresso Bianco Doppio is the same from the start to the end — rich and creamy. The first notes to hit your palate are sweet and milky, followed by a slow unfurling of caramel and cereal notes.
Portion Size
Nespresso Bianco Doppio is best brewed as a double espresso (80 ml or 2.70 oz) and served with about 120 ml or 4 oz of frothed milk.
Price
The price of each Nespresso Bianco Doppio coffee pod is $1.15 and a pack of 10 is priced at $11.50 in the US. There are some price differences between different countries.
Nespresso Bianco Doppio Review Conclusion
Nespresso Bianco Doppio is a great pick of coffee if you are looking for a sweet and creamy experience with a delightful array of flavor notes. For me, it's the long, sunny summer mornings that this coffee is best suited for when I want something decadent.
It won't really suit me if I want it as a mid-afternoon pick-me-up. That's when I want something more intense with a kick — like an espresso shot made with Nespresso Il Caffe coffee pod.
If you're looking for a strong cup of black coffee, you might also want to check out my review of the Nespresso Intenso and Nespresso Stormio coffee pods for a cup that is intense and has some bitter notes.
And do keep an eye on this space for more reviews of Nespresso Vertuo-compatible pods.