Last week I ordered Nespresso Stormio to find out what the storm in the coffee cup was all about!
I had heard about the variety of capsules you can get from Nespresso and use on your Vertuo machine. I was particularly interested in Stormio as the reviews I had read said it was intense and flavorsome. I was intrigued.
So, after sipping on a few cups, I decided to pen down my thoughts on the Stormio Nespresso coffee so that you may benefit from my findings. Hence, another review from yours truly. Hope you enjoy it!
What is Nespresso Stormio?
Nespresso Stormio is a strong and intense coffee blend made with dark-roasted Arabica coffee. Compatible with Vertuo coffee machines, one pod gives you a large mug of strong coffee that's sure to wake up both your body and taste buds.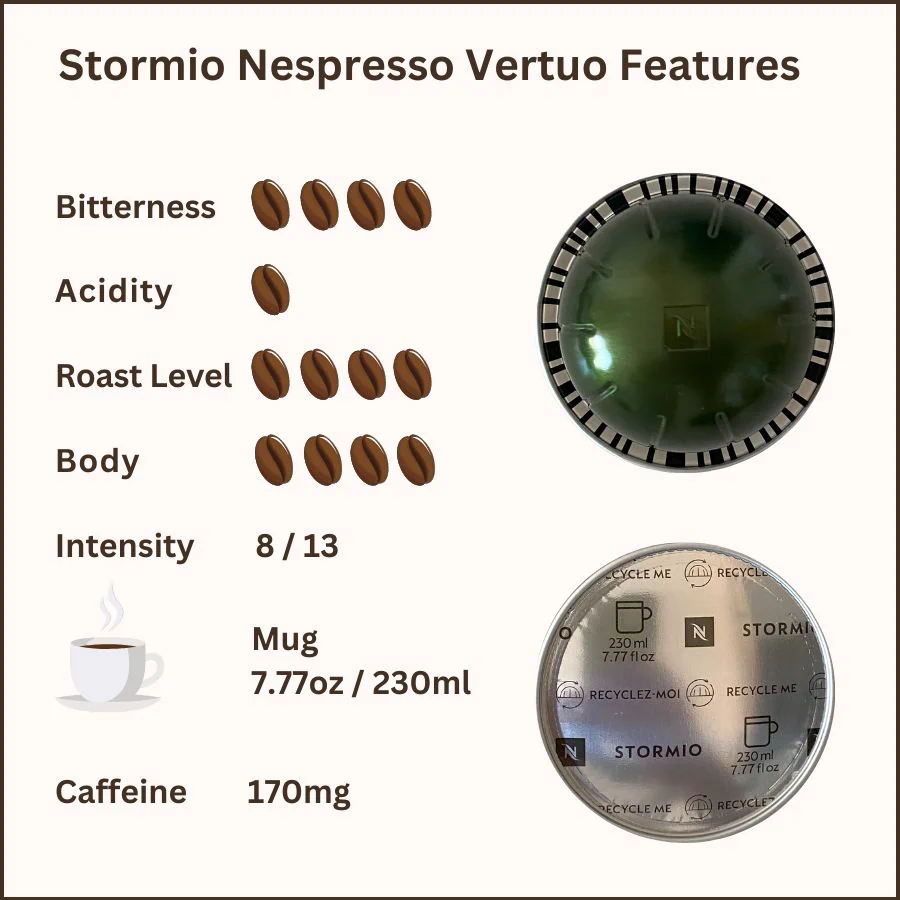 A single capsule of Nespresso Stormio yields a 2.77 oz (or 230 ml) mug of potent coffee. My Nespresso Vertuo Next can automatically recognize the coffee capsule and will brew it just the right way.
Nespresso Stormio is available in a 10-pod sleeve as well as in a bundle pack of 3 sleeves. Packaged in recyclable aluminum capsules, the coffee will keep its freshness and flavor for a long time. Each capsule has 12.5 grams of roasted coffee grounds.
Nespresso Stormio Flavor Profile
Nespresso Stormio epitomizes a brewing storm. It's a dark and deep force to be contended with. The flavor profile is bold and robust, making it the perfect choice for those who prefer a strong and intense coffee experience.
With rich woody and spicy notes and a hint of cereal undertones, Stormio offers a complex and satisfying taste. Despite the rich and intense flavor, the coffee is well-balanced, with a smooth and full-bodied mouthfeel that lingers on the palate.
Whether enjoyed black or with a splash of milk, Nespresso Stormio delivers a satisfying and invigorating coffee experience.
Nespresso Stormio Caffeine Content
One mug of coffee made with a Nespresso Stormio capsule has about 170 milligrams of caffeine. A regular 8–ounce cup of coffee has about 100 mg of caffeine so this cup is much stronger!
You can definitely expect a proper energy boost from this coffee. I had a cup of Nespresso Stormio before going to the gym and the iron felt a bit lighter that day.
Nespresso Stormio Features
There are dozens of different Nespresso Vertuo coffees to choose from. Each type of coffee capsule has many features that make it unique. In this section, I will explain what all of these characteristics and the related values mean.
The features of Nespresso Stormio that set it apart from others are:
Origin
Nicaraguan and Guatemalan 100% Arabica coffee beans are used to create this coffee blend. Both these types are high-altitude coffee beans and each type comes with its own flavor and strength characteristics.
Bitterness
Nespresso Stormio rightfully scores 4 out of 5 in terms of bitterness. While the Nicaraguan coffee beans lend bitter and roasty notes to the coffee blend, the Guatemalan coffee beans add to the complex flavor and strength.
Acidity
The acidity score of Nespresso Stormio is 1 out of 5, since the Nicaraguan beans that are high-grown have a clean acidity profile. Therefore, you won't taste any sourness in the coffee blend.
Roast Level
The Central American Arabica coffee beans are dark roasted slowly to develop a strong flavor.
The Nicaraguan beans have a green apple aroma that gives the intensity and bitterness when slow-roasted. The Guatemalan beans grown on volcanic soil give a more complex flavor and strength to Nespresso Stormio.
Body
The full-bodied Nespresso Stormio scores 4 out of 5. The smooth and rich mouthfeel sits well on the palate and is a pleasure to sip on. You get a nice crema to enjoy when you brew this coffee.
Intensity
On the intensity scale of 1 to 13, Nespresso Stormio scores 8, meaning that it is more of a higher-medium intensity coffee.
The slow and dark roast of the Nicaraguan and Guatemala coffee beans gives it the strength, bitterness, and complexity of the coffee blend.
Finish
The rich and intense aromatic profile of Nespresso Stormio strikes you with strong notes of wood, cereals, and spice. The finish of the coffee blend is long and full.
Portion Size
Nespresso Stormio is best enjoyed as a long black or Americano. Make sure that the you have a large enough mug because you'll get 2.77 oz or 230 ml coffee!
The grind is coarse, and when brewing it with your Vertuo coffee machine the temperature of the water is high, and the brewing time is long to extract the full panel of flavors and strength.
Price
You can order a pack of 10 capsules of Nespresso Stormio for a price of $12.50 in the US. Other countries might have slightly different prices for this coffee.
Nespresso Stormio Review Conclusion
Dark, deep, flavorful – Nespresso Stormio is a blend for those who love their coffee to be strong and complex. The woody, spicy, and cereal notes of this coffee blend will delight your senses.
Another strong option to consider is Nespresso Fortado, a capsule that makes you a 5 oz cup of strong coffee loaded with caffeine.
But if you want something more on the peppy side, try Nespresso Bianco Doppio.
In truth, there is a Nespresso coffee for every mood and occasion. Keep reading my posts and discover them all!