For some coffee drinkers, consuming dairy simply isn't an option. Soy milk is a popular dairy milk replacement with many uses in coffee and tea!
However, soy milk is more than just a substitute ingredient. In fact, it can actually be a worthwhile addition to your diet.
Indeed, this flavorful and healthy milk alternative has many nutritious benefits and is loaded with vitamin B. As such, you will be happy to hear that Starbucks offers numerous mouth-watering non-dairy beverages made with soy milk.
Many of these delicious beverages are perfectly paired with premium espresso for decadent complexity in each rich sip.
Here, we will discuss the kind of soy milk Starbucks uses and more. Then, you can decide whether to order your next espresso, latte, or iced coffee drink with soy milk!
What Kind of Soy Milk Does Starbucks Use?
In 1997, Starbucks began offering plant-based milk for consumers in the United States. Over the years, Starbucks went through many different types of soy milk.
However, these days, Starbucks only uses soy milk made by Danone. As an exclusive product made just for the coffee producer, you cannot purchase Starbucks soy milk at the grocery store.
But Danone SA is also the parent company of Silk and you can find Silk branded soy milk in the stores.
What's Great About Soy Milk in Coffee and Tea Drinks?
Soy milk is often used as a delicious addition to coffee and tea. The flavors and consistency of soy milk can be used to complement an array of subtle flavor nuances in coffee.
With tea, soy milk can cut through any astringency for delicately rich flavors.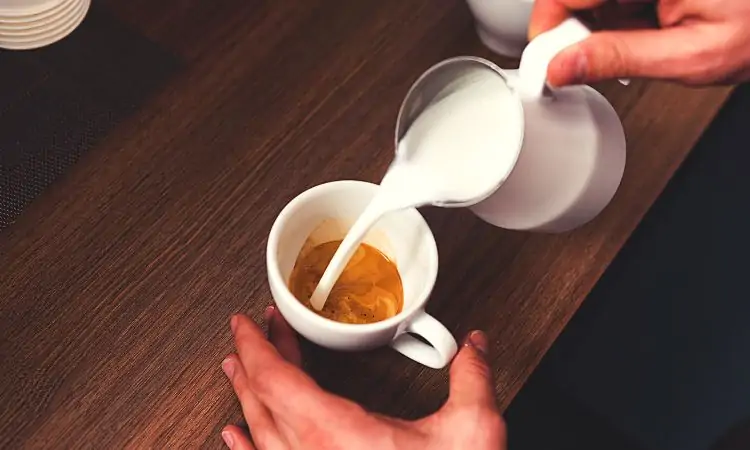 However, using soy milk in any kind of hot beverage requires skill. On top of this, not all types of soy milk can be heated for use in tea or coffee drinks.
This is why Starbucks uses a special kind of soy milk for tea and coffee beverages.
Indeed, there are several delicious soy milk drinks at Starbucks and many things to love about the signature soy milk they use.
For one thing, this plant-based milk alternative is perfect for anyone who is lactose intolerant, as it has absolutely no lactose. Plus, it is vegan-friendly, organic, and nutritious!
Additionally, the particular type of plant-based Danone soy milk used at Starbucks is made with care and consideration. This soy milk is crafted especially for use in coffee and tea drinks.
It is created by soaking soybeans in a special mixture of water and then grinding them to a fine consistency before mixing them into a slurry. This slurry is then refined and strained to create fully plant-based milk that goes well with coffee.
Is Starbucks Soy Milk Healthy?
Soy milk can be very nutritious as a non-dairy milk substitute.
In fact, soy milk is high in vitamin B6 and Omega-3 fatty acids. So if you are trying to be more heart-healthy, it's a good option to consume.
The above is true for soy milk in general and also applies to the type of Danone soy milk used at Starbucks.
For example, if you order a tall (12 oz) caffe latte made with soy milk, it will have 14 grams of sugar and 150 calories. However, if you order it with Starbucks coconut milk instead, it will have only 9 grams of sugar and 110 calories.
If you want to compare the different vegan milk options available at Starbucks, take a look at the table below.
Nutritional values of plant-based Starbucks milk options (per one 8 oz cup):
| Milk Type | Calories | Fat | Carbs | Sugars | Protein |
| --- | --- | --- | --- | --- | --- |
| Soy Milk | 130 | 4g | 16g | 13g | 7g |
| Almond Milk | 60 | 4g | 6g | 5g | 2g |
| Oat Milk | 140 | 7g | 16g | 7g | 1g |
| Coconut Milk | 80 | 5g | 7g | 7g | 1g |
Is it Natural?
Although Starbucks soy milk is processed, it is considered to be comparatively natural. This is the only organic milk option at Starbucks, and it's also free of GMOs.
It does, however, contain carrageenan, an emulsifier ingredient that is derived from seaweed. Some controversy exists about whether carrageenan is good for consumption.
Here's a full list of the ingredients in this type of milk:
• Organic Soymilk (Filtered Water, Whole Organic Soybeans)
• Organic Evaporated Cane Juice
• Calcium Carbonate
• Natural Vanilla Flavor
• Sea Salt
• Carrageenan
• Sodium Citrate
• Baking Soda
• Vitamin A Palmitate
• Vitamin D2
• Riboflavin (B2)
• Vitamin B12
Is Starbucks Soy Milk Sweetened?
Yes, the soy milk at Starbucks is lightly sweetened. This type of milk contains about 14 grams of sugar per 12 oz.
Is Starbucks Soy Milk Gluten Free?
Yes, the soy milk used at Starbucks is considered gluten-free.
However, if you have a gluten allergy, you should be careful to check that any other ingredients in your drink are also free of gluten.
For example, Starbucks Java chips contain gluten. So, although the soy milk is gluten-free, check that any toppings you add are also free of gluten.
Some popular gluten-free drinks at Starbucks that can be made with soy milk include:
• Hot chocolate
• Cafe Misto
• Cappuccino
• Iced Cappuccino
• Americano
• Iced Americano
• Caffe Mocha
• Iced Caffe Mocha
• Caramel Macchiato
• Chai Tea Latte
• Iced Chai Tea Latte
Final Thoughts on Starbucks Soy Milk
So now you know!
Starbucks uses an exclusive type of soy milk by Danone for making beverages.
This variety of soy milk is specially formulated to pair well with tea and coffee. It can also be heated and steamed to ensure the best possible flavors in your drink.
Starbucks soy milk is great for those looking for a heart-healthy dairy-free plant-based milk alternative!
Keep in mind that this kind of milk does contain a significant amount of fat and sugar compared to other non-dairy milk substitutes like almond milk at Starbucks.
Still, if you are looking for a great source of vitamin B6 and omega-3 fatty acids, a Starbucks soy milk drink could be a suitable choice.
I hope that this guide satisfied your craving for information about your favorite Starbucks soy milk drinks!