If you're in the northwest and want to enjoy good iced coffee drinks, Dutch Bros is the place to be. Using their exclusive chocolate milk and signature soft top, you won't get another set of drinks like this anywhere else.
As a true iced coffee enthusiast, I've scoured the menu at Dutch Bros, sipped on countless beverages, and even got some sneaky peeks into their secret menu. There's a wide variety of options to choose from, but I have narrowed the delicious Dutch Bros coffee drinks down to my absolute favorite ones.
And now, after a wonderful caffeine-filled journey, here is my personal list of the 12 best Dutch Bros iced coffee drinks you must try!
12 Best Dutch Bros Iced Coffee Drinks You Must Try
Now that we have the lowdown on the various coffee drinks available at Dutch Bros, let's go right down to the list of my favorite Dutch Bros iced coffee drinks.
In this short but sweet guide (get the pun?), I will share what goes into making these heavenly treats so that you can order what suits your taste.
1. Vanilla Cold Brew with Soft Top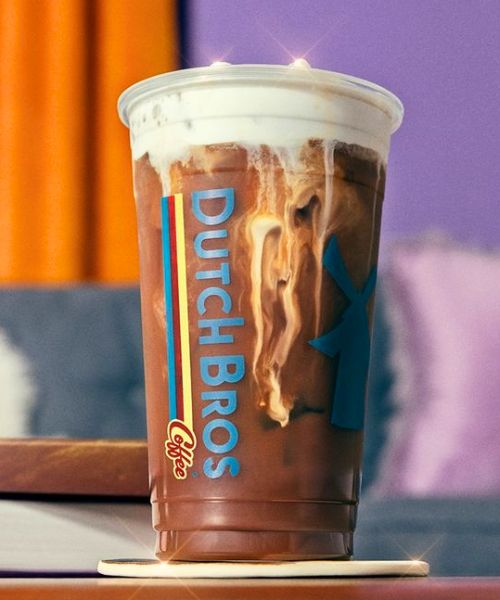 The Vanilla Cold Brew Coffee is perfect for when I want a straightforward, yet mellow coffee flavor with just the right amount of sweetness. This iced coffee drink combines a smooth cold brew with a hint of vanilla and a decadent soft top for a refreshing and satisfying drink.
The simple cold brew really is turned around its head when it's blended with vanilla. Dutch Bros cold brew is different from its regular iced coffee counterparts with its smoother and less acidic taste and higher caffeine content.
This super refreshing drink is sure to give a nice energy boost as the medium-sized option contains over 200 milligrams of caffeine!
Want fewer calories?
No problem, just leave the soft top out and just get one pump of the vanilla syrup. Or opt for a sugar-free vanilla syrup to make it one of the best keto drinks at Dutch Bros.
2. Annihilator with Soft Top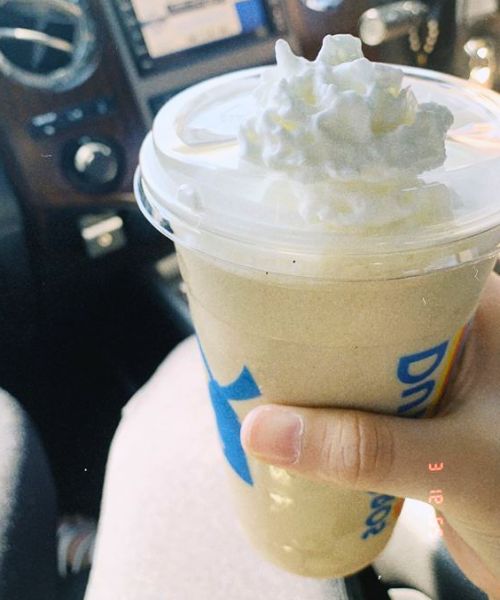 Living up to its name, the Annihilator is one of the best Dutch Bros drinks iced coffee options you can get. It's a drink that will annihilate your cravings for sure!
Half-and-half is blended with espresso and chocolate macadamia nut syrup to create this sweet, nutty, and creamy concoction. And when crowned with the soft marshmallow-flavored foam, you literally feel on top of the world.
I often treat myself to the Annihilator to beat the blues. This is definitely one of the must-try iced coffee drinks at Dutch Bros.
3. Golden Eagle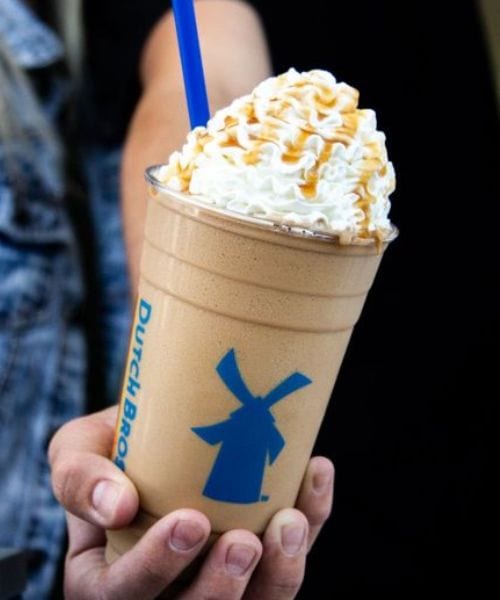 The list of Dutch Bros iced coffee drinks is incomplete without mentioning the classic Golden Eagle. You're in for the ultimate caramel treat when you order this drink.
This sweet and satisfying drink is made with a rich and creamy half-and-half base that's blended with espresso, vanilla syrup, and caramel sauce. The icing on the cake is the caramel drizzle and whipped cream.
It is a tad too sweet for my taste but a treat for all the sweet tooths out there.
4. Campout Cold Brew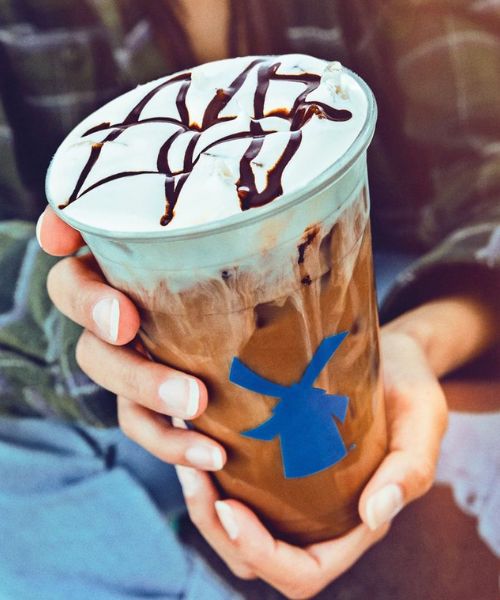 The Campout Cold Brew is made by blending the Dutch Bros smooth cold brew coffee with chocolate milk, vanilla, and chocolate macadamia syrup. Crowned with the signature soft top, it will take you to another level of mocha paradise. The chocolate drizzle completes the exquisite mocha experience.
You can order this drink with the regular cold brew but if you want a more dramatic foam on top, ask the broista for a nitro cold brew.
I can't forget the Campout Cold Brew, a unique blend of cold brew coffee, chocolate, and a hint of toasted marshmallow. It's the perfect way to bring the feeling of a cozy campfire into my iced coffee drinking experience.
5. Caramelizer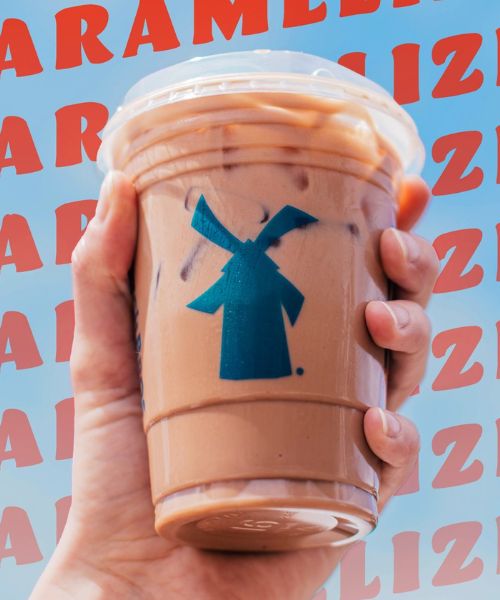 The best of the chocolate world is brought to you by the Caramelizer. Exclusive chocolate milk by Dutch Bros is blended with espresso for an unmatchable bold taste and topped with whipped cream and caramel drizzle for a luxurious mouthfeel.
Undoubtedly one of the most sinfully-sweet iced coffee drinks at Dutch Bros, the Caramelizer is a must-have if you're craving decadence in a glass.
6. Vanilla Bean Latte
I absolutely love the Vanilla Bean Latte at Dutch Bros!
It's a smooth and sweet iced coffee with just the right amount of vanilla flavor. I think that vanilla really pairs well with almost any flavor and creates the simplest yet most satisfying combo when mixed with iced coffee.
The combination of the coffee punch I love and creamy vanilla bean makes this drink a perfect pick-me-up on a hot day. It's the ideal option for those like me who live for their coffee kick without overly sweet fruity frills.
7. Campout Mocha Freeze
Launched in the summer of 2021, the Campout Mocha Freeze is the best Freeze coffee drink at Dutch Bros IMHO. If you want to celebrate the great outdoors with a limited-edition summer drink, the Campout Mocha Freeze is a great choice.
The roasted s'mores flavor enhances the coffee undertones and balances out the sweetness of the chocolate drizzle. If you miss the good old camping days, sip the Dutch Bros Campout Mocha Freeze. The marshmallow soft top will take you back to your childhood days!
8. Snickers Mocha
My favorite candy bar comes to life with the Dutch Bros Snickers Mocha — an item from the secret menu. It's a decadent treat that combines the creamy chocolate milk base with iced coffee and three sticky sweet syrups – hazelnut, chocolate, and caramel. Aren't you drooling already?
Hold it while you get the broista to add some toppings like a cloud of soft top or whipped cream or some drizzle like caramel or chocolate. Relax, sip, and enjoy!
9. Picture Perfect Dutch Freeze
The Picture Perfect Dutch Freeze is an amazing blended coffee drink that's tasty and frosty. It features Dutch Bros coffee blended with ice, caramel, and chocolate sauce drizzle that is topped off with whipped cream!
10. 911
Is your system about to shut down? Looking for a serious caffeine boost ASAP?
No need to call the emergency line. Because the 911 at Dutch Bros is exactly what you need!
Featuring six shots of espresso, Irish cream, and a hint of caramel this drink has an intense flavor and provides a serious jolt of energy.
And remember that the 911 is delicious both hot and iced depending on the season.
11. Iced Grand Canyon OG
The Iced Grand Canyon OG is a refreshing mix of coffee and chocolate milk blended with white chocolate, dark chocolate, and chocolate macadamia nut syrups.
This secret menu item may not be a classic iced coffee, but it's a delightful alternative when I'm looking for something a little different.
12. White Chocolate Mocha
For a velvety smooth iced coffee, I like the White Chocolate Mocha at Dutch Bros. It combines the rich taste of the white chocolate sauce with chocolate milk and cold brew coffee to create a delightful pick-me-up.
Now that you know all about what Dutch Bros has to offer, why not check out the best Starbucks iced coffee options for comparison?
Facts About Dutch Bros Iced Coffee Drinks
The iced coffee drinks at Dutch Bros are made using breve milk (half-and-half and milk) and espresso. This makes their beverages extra creamy and smooth.
Using 100% Arabica beans from Central and South America, Dutch Bros has a specially roasted blend to strike the right balance of acidity, flavors, and body.
The types of iced coffee drinks at Dutch Bros include:
Espresso-based drinks made with breve and flavored syrups.
Cold brews made with smooth, less acidic, and more caffeinated cold brew coffee blended with any syrup.
Freeze drinks made with coffee that is blended with chocolate and other flavors.
Iced Americano made with water and espresso.
How to Order and Customize Your Drink
You can customize your iced coffee drink by adding a flavored syrup or choosing from different dairy alternatives like oat, soy, or coconut milk.
Check out my guide about Dutch Bros syrup flavors for all available options you can choose from. There's also a variety of sugar-free syrups if you want to go low on the sugar rush.
If you're okay with more calories, top up your drink with the soft top, whipped cream, or a drizzle of any sweet sauce. The soft top at Dutch Bros has the flavor of marshmallows, making it different than the usual cold foam you get in your neighborhood coffee chain.
Just remember that the extra toppings come with extra price and calories!
Choose from their small (16 oz), medium (24 oz), and large (32 oz) cup sizes for cold drinks. I always go for the medium one.
For further customization of your cold beverage, pick either a blended or an iced variation of the drink.
Final Thoughts on Best Dutch Bros Coffee Drinks
Whether you want a strong coffee buzz or a sweet vanilla flavor or a creamy caramel taste, the iced coffee drinks at Dutch Bros will cater to your taste and mood.
With unlimited customization options, make each iced coffee drink your very own at Dutch Bros. And remember that you can also choose to have many of these drinks hot when it's a cold and rainy day.
Dutch Bros is definitely one of my favorite coffee shops mainly because their menu has a variety of delicious iced coffee drinks to choose from. But they will not let you down even if you're not in the mood for coffee or want something for the kids as the menu has plenty of non-caffeinated options too.
So next time you're in the hood, be sure to drop by!