Dutch Bros offers a wide variety of delicious and unique syrup flavors perfect for customizing your favorite coffee, tea, or blended beverages. From classic favorites like vanilla, caramel, and hazelnut to more adventurous options like creme de menthe, Irish cream, and orange, there's a flavor for every taste bud.
I've paired banana syrup with a Caramelizer and trust me when I tell you that this combination is amazing!
In this guide, I'm going to share the list of original and sugar-free Dutch Bros syrup flavors so that you can discover your new favorite combinations and level up your Dutch Bros experience.
What Syrups Does Dutch Bros Use?
Dutch Bros uses Torani syrups to make their already tasty drinks even more delicious. The most popular syrup flavor is – you guessed it – vanilla. That's because vanilla is a flavor that goes with every other flavor.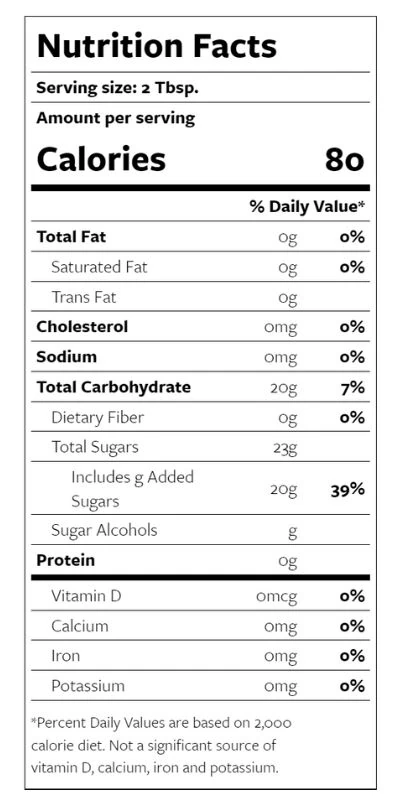 As per the company website, Torani syrups have the following ingredients:
Water
Natural flavors
Pure cane sugar
Citric acid
Potassium sorbate
Sodium benzoate
Note: Natural flavors are derived from natural sources, for example, real vanilla for making vanilla syrup.
Different syrups have different nutritional values but let's look at the nutritional values of everyone's favorite syrup flavor: vanilla. A single serving of 2 tablespoons of Torani vanilla syrup has 80 calories.
What Syrup Flavors Does Dutch Bros Have?
What are the available flavor syrups is a question we all have in mind when we are ordering our drinks. After all, who would like to have vanilla syrup every time?
And luckily Dutch Bros has a huge variety of syrups available.
Here's a list of more than 25 of the syrup flavors that Dutch Bros uses:
Vanilla: The creamy, clean, and delicious flavor of vanilla syrup is the perfect way to add a little sweetness to your drinks. Goes well with Dutch Bros iced coffee or hot coffee as well as many other drink options.
Strawberry: Redolent of the perfect summer day, this sweet and juicy flavor is a great addition to a plain lemonade.
Chocolate: A universal favorite, a drizzle of chocolate syrup makes your beverage taste even better and your beverage picture more Instagrammable!
Caramel: The sticky toffee flavor of caramel syrup is a great way to add depth to your mocha drink.
White Chocolate: The rich and creamy white chocolate syrup can be the perfect addition to your smooth mocha cold brew.
Cinnamon: Add warm and spicy notes to your coffee or hot chocolate with the cinnamon syrup.
Coconut: Craving something breezy, sweet, and dreamy? Coconut syrup is the way to go!
Creme de Banana: Turn any beverage from the Dutch Frost selection into a pure creamy one with the banana syrup and go bananas!
Salted Caramel: Add salty and sweet layers to your plain coffee with this caramel syrup or add to Caramelizer to take it to the next level.
Chocolate Macadamia Nut: Buttery and nutty meet deep chocolate in this chocolate macadamia nut syrup to take your blended, hot, or iced beverage to Nirvana.
Cane Sugar Syrup: It's just the right syrup to add sweetness without overpowering your drink with any flavor.
Hazelnut: The rich nutty and creamy flavor of the hazelnut syrup is sure to add a delicious touch to your espresso or mocha drink.
Irish Cream: Make your espresso drink decadent with Irish cream syrup that gives a subtle vanilla flavor.
Almond (orgeat): The nutty aroma and the light sweetness of almonds in this syrup will turn your espresso drink into a taste of heaven.
Almond Roca: Chocolatey, nutty, and full of buttercrunch flavor, almond roca syrup pairs great with iced, blended, or hot cocoa or coffee drink.
Creme de Menthe: A pump of creme de menthe syrup will bring a refreshing minty taste to a blended or iced drink on a hot summer day.
Kiwi: Add some kiwi love to a fruity smoothie or a green tea lemonade with kiwi syrup.
Blackberry: For some gorgeous colors and deep notes, add blackberry syrup to a hot or iced tea or Americano.
Lime: Turn your iced tea or lemonade into a tangy, zesty, energetic drink with a pump of lime syrup.
Orange: From milkshakes to iced teas to Dutch Bros Rebel energy drinks, a splash of orange syrup can turn things citrusy and sweet.
Passion Fruit: Iced teas, Rebel drinks, and lemonades will taste better with the ripe and sweet kick of passion fruit syrup.
Blue Raspberry: Treat your kids or yourself to a soda, smoothie, or Dutch Frost with a powerful blue drink and a rich raspberry flavor from the blue raspberry syrup.
Red Raspberry Enjoy the punchy, no-acidic raspberry flavor in a latte, milkshake, smoothie, or hot tea for a fruity twist.
Pomegranate: The tartness and the red color of the pomegranate syrup make it the perfect pair for black tea, iced tea, lemonade, or a smoothie.
Peach: Resembling the soft, sweet, and juiciness of a summer peach, peach syrup is the real deal for a smoothie, iced tea, or lemonade.
Watermelon: Perfect to cool down on a hot day, watermelon syrup is a great addition to smoothies, iced tea, lemonades, and Rebel drinks.
Pineapple: Head over to the tropics with a pineapple-flavored smoothie, lemonade, or iced tea with a punch of pineapple syrup.
Ruby Red Grapefruit: Add some ruby red grapefruit syrup to get a perfect balance of tangy and sweet flavor in your iced tea, smoothies, or lemonades.
The most popular syrup flavors besides vanilla are caramel, white chocolate, hazelnut, and Irish cream as these flavors pair well with most espresso and cocoa beverages.
However, not all syrups are suitable for all types of drinks. For example, a fruity drink requires a matching syrup like pineapple syrup if you want to have a tropical twist to your drink. On the other hand, for an espresso drink, chocolate macadamia nut syrup can add layers of deep notes to the drink without changing the basic coffee taste.
If you're having a mocha, adding hazelnut syrup will enhance the cocoa notes and add a warm, nutty aroma to your drink. If you're in doubt, always ask the broista before deciding on a Dutch Bros syrup.
Dutch Bros Sugar-Free Syrup Flavors
If you're worried about your sugar intake but don't want to miss out on the fun and flavor of the classic Dutch Bros drinks, go sugar-free.
Below is a list if Dutch Bros sugar-free syrup flavors:
White chocolate
Chocolate
Caramel
Vanilla
Chocolate macadamia nut
Hazelnut
Irish cream
Coconut
Raspberry
Peach
Strawberry
Peppermint (seasonal)
Most of my favorite Dutch Bros syrup flavors are available sugar-free although the scales lean toward syrups for coffee drinks. The fruity sugar-free syrups are limited but if you can't choose from the list, always depend on vanilla to perk up any type of drink.
These sugar-free syrups are sweetened with an ingredient called sucralose which is a no-calorie sweetening agent.
Such sugar-free syrups have the benefit of giving you all the sweetness without the calories. So if you are looking for a Dutch Bros keto drink that is still sweet, here is the solution!
Additionally, sucralose is not absorbed by the human body but is passed out in the urine so even if a small percentage of it is present in the body, it won't add calories.
How Much Syrup Is Used for One Drink?
The standard serving size is 10 grams or ½ tablespoon of syrup at Dutch Bros. However, the amount of syrup depends on the type of beverage.
The density of the syrup also determines how many tablespoons of syrup are in 10 grams, but it is more or less half a tablespoon. Check out this calculator if you need to be more specific.
Always ask the broista the amount of syrup they use in the beverage you want to order. Then customize it to suit your taste. Ask for less syrup if you want your drink to be less sweet with fewer calories.
Speaking of calories, a tablespoon of Torani vanilla syrup adds 40 calories to your drink. But the calories differ from syrup to syrup. For example, a tablespoon of Torani salted caramel syrup adds 50 calories.
Final Thoughts on Dutch Bros Syrups
Syrup flavors at Dutch Bros are another element that makes this coffee shop a great place in addition to their carefully curated coffee blends. The fact that they allow customers to customize their drinks according to their taste buds and dietary restrictions is a huge plus.
So, no need to shy away from this coffee shop and its exhaustive list of syrups as you can customize and savor your own drink. Cheers!
If you love coffee syrups, I recommend that you also check out my guide with Dunkin' syrups so you can compare the options.