Dunkin' Donuts sells many delicious commodities for people with a sweet tooth — and their caramel drinks are some of the most decadent!
This popular coffee and doughnut shop offers an array of espresso beverages, iced coffees, lattes, blended drinks, and more.
When you order a Dunkin' caramel drink, you can mix and match it with classic flavors like french vanilla, hazelnut, and mocha, or check out limited-time options with exquisite flavor notes and signature toppings.
No matter what kind of coffee you are craving, Dunkin' has something for you. And this pastry and beverage chain definitely has some of the most delicious caramel coffee drinks available!
So what are the best caramel drinks at Dunkin' Donuts? Read on to find out!
How to Order Caramel Drinks at Dunkin'
Caramel is sweet, creamy, satisfying, and perfect for pairing with coffee. Dunkin' Donuts caramel coffee drinks are delicately nuanced with the ideal combination of sweetness, rich cream flavors, and slightly bitter coffee undertones.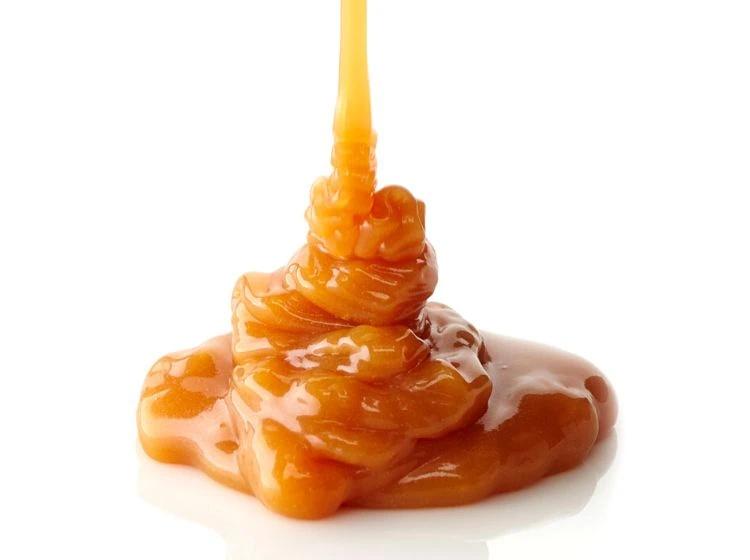 Power through your day and enjoy an energizing pick-me-up with your delicious Dunkin' Donuts caramel drink in hand!
But how exactly can you order a caramel drink at Dunkin' Donuts?
It's pretty easy, actually!
One way is to simply select an "on the menu" caramel coffee beverage by name. Or, just like with Starbucks caramel drinks, you can order an "off-menu" custom drink and request that caramel swirl and/or caramel topping sauce be added.
At Dunkin', caramel swirl syrup is added to drinks in measured pumps that blend with your beverage. Apart from the signature caramel swirl syrup, thicker caramel sauce can also be drizzled down the sides of your cup or added on top of whipped cream.
Dunkin' also lets you add flavor shots, which are special flavored infusions (5-10 calories each) without the added sweetness. However, caramel is not an option in the current lineup of Dunkin's flavor infusion shots.
So if you are looking for low-calorie Dunkin' drinks, then caramel is not the way to go.
To special order your caramel coffee at Dunkin' Donuts, first, decide which type of coffee you are in the mood for. Would you prefer an iced coffee, a hot latte, or a blended drink?
Then, after ordering the drink you are craving in the size that best suits your appetite, ask to add caramel swirl in the drink, caramel drizzle on top, or both.
What Caramel Syrup Does Dunkin' Donuts Use?
At Dunkin' Donuts, in-house flavored caramel swirl sauce is used to imbue caramel flavoring into coffee beverages.
Same as with other Dunkin' syrup flavors, it's their own brand that is not available for sale. But if you want to try and make some of these drinks at home, Torani Caramel Syrup is quite similar.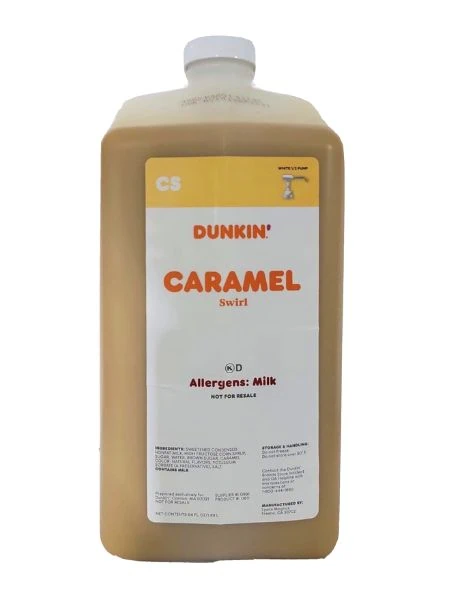 The ingredients of Dunkin' Donuts caramel swirl sauce are sweetened condensed nonfat milk, high fructose corn syrup, sugar, water, brown sugar, caramel color, natural flavoring, potassium sorbate, and salt.
This sweet and creamy flavored sauce is infused into drinks one small pump at a time. Usually, 12 oz drinks get two pumps, 16 oz drinks get three, and 24 oz drinks four pumps of caramel swirl.
If you are a fan of caramel, I recommend that you also check out my guide which explains what caramel sauce and syrup Starbucks uses.
Top 5 Best Caramel Drinks at Dunkin' Donuts
Now you know why caramel drinks at Dunkin' Donuts are so delicious and how to order them.
So let's go over some of the tastiest beverages to try the next time you're craving something with creamy, sweet caramel at Dunkin'!
1. Caramel Mocha Latte – Hot or Iced
Dunkin' Donuts caramel mocha lattes are made with milk, caramel, and mocha swirl flavors, and then blended with rich and bold, freshly ground espresso.
Each hot latte will have a base of steamed milk and a layer of fluffy foam on top to give you the ideal balance of creamy and smooth flavors.
A caramel mocha iced latte has similar ingredients but will be served cold, over ice, and without the foam on top — this might just be the best iced coffee at Dunkin'.
If you get an iced latte, you may also want to add whipped cream and caramel drizzle!
2. Salted Caramel Cream Cold Brew
The salted caramel cream cold brew at Dunkin' Donuts is a limited-time drink made using delicious cold brew coffee and signature salted caramel cold foam.
The frothy caramel cold foam sits atop the bold, rich cold brew coffee to create a velvety smooth, and satisfying drink that is sure to satisfy in every sip.
A special "sip lid" is included, which helps you gradually blend the cold brew coffee and the sweet caramel cold foam together in your mouth as you enjoy your beverage.
3. Caramel Craze Iced Signature Latte
If you have been craving a sweet drink made with delicious coffee and caramel, this iced signature latte is sure to bring a smile to your face.
It is made using rich espresso, ice, and milk. Then, whipped cream, caramel drizzle, and flavorful toppings are added for the ultimate experience of decadence to put a little pep in your step!
4. Coconut Caramel Iced Coffee
Coconut milk and coffee make a wonderful combination. Add a little bit of caramel to the mix and you are sure to be impressed!
This delicious and icy Dunkin' Donuts coffee drink combines the perfect pairing of caramel flavors and coconut nuances to re-energize you. Served over ice, it's perfect for refreshing your afternoon.
5. Vanilla Caramel Macchiato – Hot or Iced
With French Vanilla swirl, caramel swirl, rich fresh-brewed espresso, and creamy milk, this mighty macchiato is served either hot or over ice. So, you can decide whether you want something warm and inviting or refreshingly invigorating!
Either way, you are sure to love the caramel and vanilla flavors of this rejuvenating and sweet Dunkin' Donuts coffee drink.
By the way, check out my guide about Dunkin' Donuts vanilla drinks for more delicious options to try.
Final Thoughts on Dunkin' Donuts Caramel Coffee Drinks
If you love the sugary taste of caramel, there certainly are plenty of amazing Dunkin' Donuts caramel drink options available.
Whether you want something loaded with rich caramel flavors, like the caramel craze iced latte, or delicately accentuated with salted caramel cold foam, like the limited-edition caramel cold foam cold brew, it's easy to find just what you have been craving at the Dunkin' drive-through!